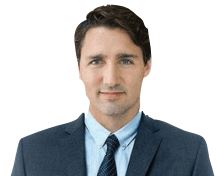 ---
My fellow Canadians, I am tweeting to let you know that I intend to run to become your Prime Minister.
I am a "woke" leader who cares about Canadians, from Victoria to Halifax, but particularly those located in Canada's major cities with a substantial social media following. I am a leader who cares about all of peoplekind, like my father before me.
Thirty-one years ago, my father's second successful term as Prime Minister of Canada was coming to an end. He took me to work that day, and stood me before the empty House of Commons. I will never forget what he said to me on that day:
"Look, Justin, everything the light touches is your kingdom."

"But what about that shadowy place?'

"That's where the Bloc members from rural Quebec sit."
It's a message I carry with me everywhere I go – a lesson from father to son.
I'm an honest man, just like my father, "fuddleduddle" notwithstanding. I'm not going to lie to you. Canada is in a bad place – Conservatives are threatening your social policies, the NDP is dangerously risking the stability of our nation, and the Bloc threatens to literally tear us apart. Last I heard, Elizabeth May and the Greens were celebrating their one seat.
If you elect me, Canada, I promise to keep us slowly chugging onward at a leisurely pace with minimal policy changes.
I promise to keep Canada out of both international and domestic headlines, whether it be for positive or negative reasons.
I promise high-quality blunts and nugs for the working class, and ever-expanding opportunities to invest in marijuana for the upper class.
I promise to photobomb your wedding photos while I'm out for a jog despite the fact that you had probably paid that cameraman hundreds of dollars.
Lastly, I promise to keep Canada mired in mediocrity for the next four years – a goal I'm sure my father would admire.
The last time I spoke to my father before he passed, he held my hand, looked into my eyes and said:
"According to all known laws of aviation, there is no way a bee should be able to fly. Its wings are too small to get its fat little body off the ground. The bee, of course, flies anyway because bees don't care what humans think is impossible."
…
Mes chers canadiens, je vous tweet cette message pour annoncer ma candidature pour l'élection fédérale du Canada.
Je suis un leader qui est fier d'être canadien. J'adore le Canada et les Canadiens – de Victoria à Halifax, je suis fier de vous tous, mais particulièrement ceux qui ont au moins 1500 followers. Je suis un leader qui adore tout peuple-manité, juste comme Papa.
Il y a trente-et-une années depuis la dernière jour de la deuxième terme de Papa. J'n'oublierai jamais ce qu'il m'a dit dans la Chambre des communes du Canada cette journée-là:
«Justin, regarde, tout ce que la lumière touche est ton royaume.»

«Mais c'est quoi cette place ombreuse?»

«Là? C'est l'Ontario centrale. On ne le gagnera jamais.»
C'est un message que j'emporte avec moi n'importe où que j'y vais. C'est un message passé de père à fils. Quand il a dit que le Canada Anglais n'a aucune identité, je lui ai cru. Il ne mentait jamais, je ne mentirai jamais.
Le Canada se trouve dans une place mauvaise. Les Conservatoires veut vous voler les services sociales, l'NPD est pleine de communistes sataniques, et le Bloc, le champion des Francophones, essaye de son mieux. Elizabeth May elle-même n'a aucune idée quoi faire – sa plateforme consiste seulement de « planter des arbres ».
Canada, si vous m'élit, je vous promets que je ne changerai aucune politique.
Je vous promets que le Canada ne sera jamais dans les nouvelles, qu'il soit international ou domestique, positif ou négatif.
Je promets du pot pour les prolétaires, et du stock pour les élites.
Je promets d'essayer mon mieux à parler le français pour vous convaincre que je suis francophone, même si je parle l'anglais de jour en jour.     
Je vous promets que je vais vous faire rappeler que je suis un supporteur des Canadiens de Montréal.
Finalement, je vous promets que le Canada sera empêtré en médiocrité pour les quatre années venant – une réussite que mon père ne pourra jamais accomplir.
La dernière fois que je lui ai parlé, il m'a prit par le main, m'a regardé dans mes yeux et m'a dit :
«Selon toutes les lois connues de l'aviation, une abeille ne devrait pas être capable de voler. Ses ailes sont trop petites pour tirer son gros corps du sol. L'abeille vole de toute façon parce que les abeilles se moquent de ce que les humains pensent impossible.»