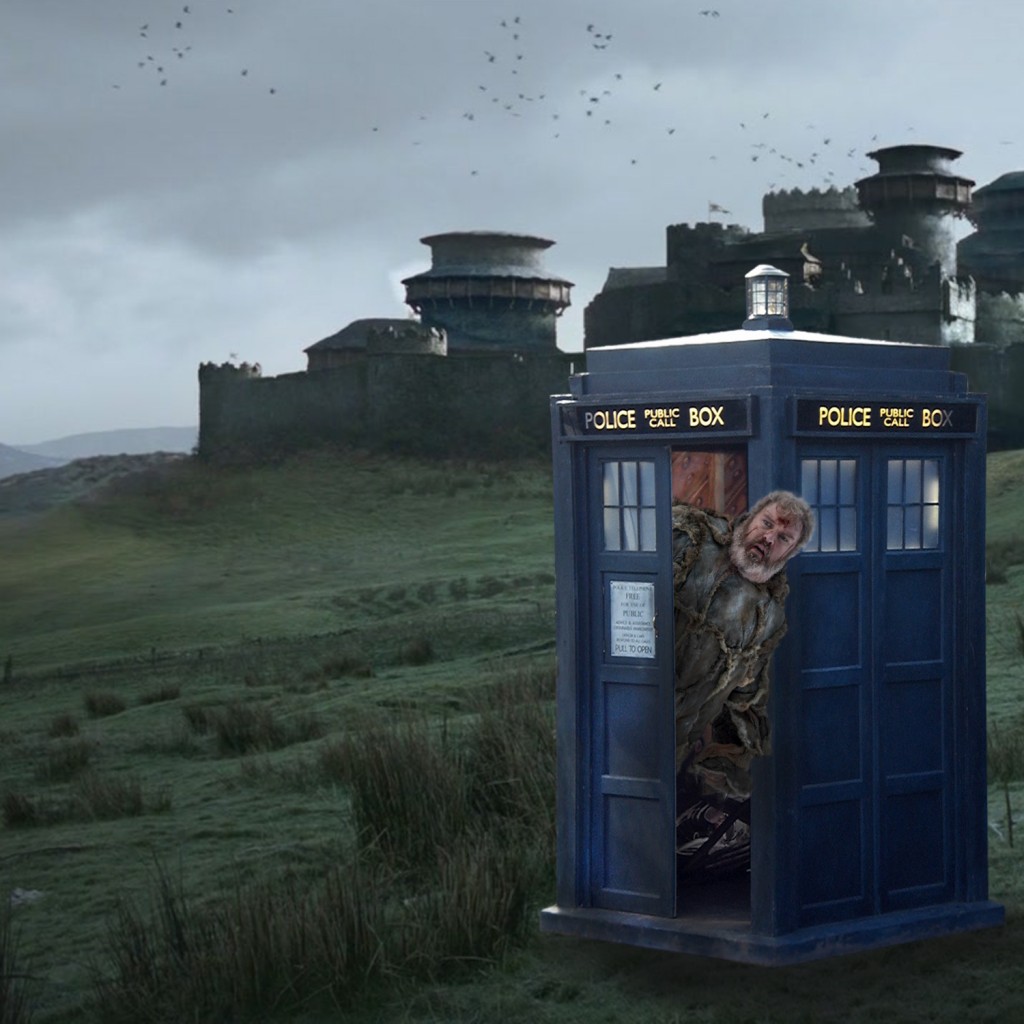 ---
After 50 aired episodes, 4451 printed pages and some of the longest hiatuses a fandom has ever seen, a lot of possible (and impossible) fan theories for Game of Thrones and its accompanying novel series have been presented to the mainstream crowd. These are just a few of them:
1)  Sandor Clegane is actually a talking dog.
The flowing locks. The thrill of the hunt. The "undying" loyalty to House Lannister. Sandor Clegane has every indication that he's not human, right down to his nickname. It all started with the years of animal abuse at the hands of his "brother" Gregor. After having half his muzzle burned, the Hound received a little bit of R and R from the local witch, with the unfortunate side effect of speech. A few years later and he's still getting bitten by fleas and probably running around the forest chasing squirrels. But hey, he can talk, so that's cool.
2)  George R.R. Martin is J.K. Rowling?
Has anyone ever seen them in the same room? Well? Have you?
In 2013, obsessed fans began to wonder if J.K. Rowling appeared to be between projects because she was still working on one from the past two decades. Rumours began to sprout that everyone's favourite childhood author was actually an old white dude, prompting Rowling to write a novel under the half-assed pseudonym Robert Galbraith. Rumours stopped and Jo went back to wearing fat suits and facial prosthetics for interviews and killing off characters that deserved so much better (R.I.P. Sirius).
3)  Hodor is a Time Lord
After crashing his TARDIS in Winterfell with no way of fixing it, Hodor was forced to remain in the Game of Thrones universe for the rest of his unnaturally long life. His companion, now known as Old Nan, continued to age at a normal pace. Throughout the years she has posed as his wife, mother, and finally his great-grandmother. Without the use of his translation circuit, Hodor is forced to communicate in his primitive tongue: 1980's Valley Girl.
4)  The Iron Throne is 86% bronze
Petyr Baelish wasn't kidding when he said the magnificence of the Iron Throne was a little over-exaggerated. Not only is the Throne made up of a measly 200 swords, but the seat itself isn't even iron. During Robert's rebellion, the Mad King started pumping out engineers like crazy. He needed men to design shields, reinforce his castle and drink ale in celebration every night. All those engineers needed their rings, and thus the Throne was dismantled and put back together with some second-hand scraps of bronze.
5)  Game of Thrones is set in the same universe as Dave the Barbarian
With dozens of characters and impossible to pronounce names, it's hard to keep track of all the people running around in the background of the Game of Thrones set. One of those characters is the ditzy Dave the Barbarian, a wildling from beyond the Wall. His parents have claimed the Iron Throne for themselves, so they've left to fight in the War of the Five Kings. Dave even owns one of the last dragons in the land, although Faffy isn't all that helpful. The Narrator is none other than George R.R. Martin, who messes around with increasingly comical plotlines so that he can procrastinate on The Winds of Winter for one more day…