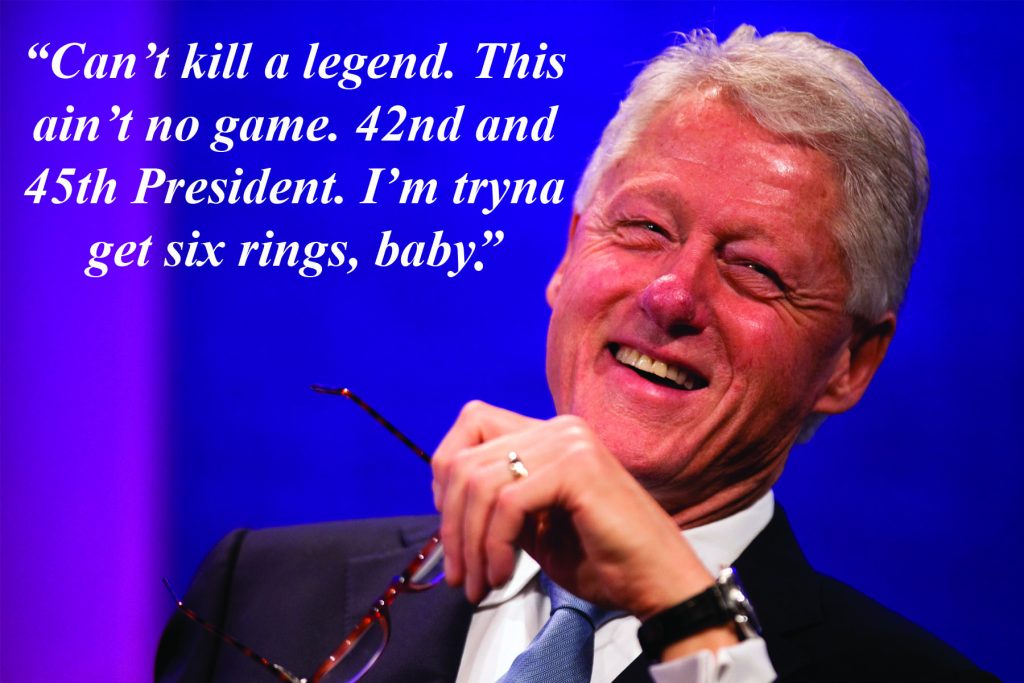 ---
In an unusual twist, Bill Clinton, has been re-elected for a third-term as president despite having left office fifteen years ago, not having run during the election, retiring from politics and having a policy that disallows it.
This is the first time since Franklin D. Roosevelt was re-elected for a third term in 1940 (and served a fourth term until 1944) that anyone served more than the maximum of two terms. Three years later, President Harry S. Truman made it impossible for anyone to serve more than two terms in office.
"Let's be honest, everything went out the window during this election," President Clinton commented. "If I had to guess, the American people wanted to make this nation really great again, so they re-elected ya boy," he added. "Can't kill a legend. This ain't no game. 42nd and 45th President. I'm tryna get six rings, baby."
Hillary Clinton had been campaigning for the past 16 months to have herself elected to the highest office in the free world. The election itself was riddled with challenges that included scandals, conspiracy theories, and Donald Trump.
"I didn't even know it had happened. I was home watching The Bachelorette. I found out when I flipped to CNN during a break. Good thing I held off taking a whiz," President Clinton said. "But if there was an opportunity for an oversized Cheeto to become president, anything is possible."
Clinton had previously served as Commander-in-Chief from 1993 to 2001. During that time, his notable accomplishments include being shot into space on an episode of The Simpsons, creating over 22 million blowjobs, and performing his sax on Arsenio Hall.
When asked for comment, Mrs. Clinton stated, "Frankly I'm not surprised. My husband's presidency marked a time of great prosperity in America, but really I think he
just reminds everyone of a beloved uncle that says inappropriate things at every family function."
Mr. Trump was understandably furious with the result, sending out several tweets beginning at 3:07am. One read: "Both Clintons are WEAK & OLD. They LIE, CHEAT and STEAL from hard-working Americans! Why would Americans want someone like him?"
Followed shortly after by: "He will get SEMAN all over FIB reports! ISIS will win!"
Small business owner and Ohio resident Jonathan Stems was asked his thoughts about the result: "Honestly, I think it was ethics that really took the biggest L during this election. There wasn't really a clear winner, either. It was weird."
A recent survey conducted by CNN showed that 89% Americans of voters based their decision on President Clinton's ability to "blow a hot horn."