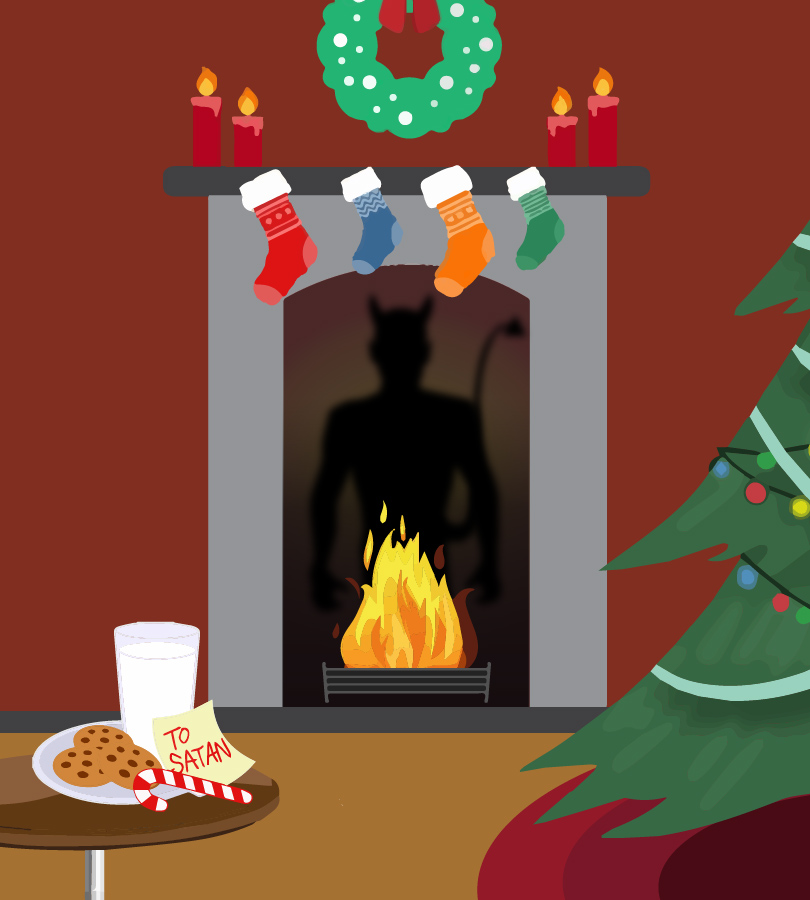 ---
'Twas the night before Christmas, and all through the house, the fires of Hell were engulfing little Jimmy's home. Satan was up on the rooftop, led by His chariot of hellhounds, with presents for every little boy and girl who wrote to Him instead of the other big red guy who watches naughty children. "It's a very simple mistake," He told a nearby reporter. "Sometimes, these kids spend so much time thinking about what toys they want that they forget to check their spelling. That's when I show up."
This year, 666 children are expected to mistakenly send their letters to Hell instead of the North Pole. "I really don't mind it, it allows me to get festive around here. Hell is usually an abyss of fire and sorrow, but around the holidays, it becomes an abyss of fire and sorrow with the Michael Bublé Christmas album playing in the background," said Satan, not explaining how Hell during the holidays was different from regular Hell. The Lord of All Evil is also really proud of the tree He is brings down and decorates each year. This year, He has a European weeping willow, decorated with candy canes, ribbons, and the severed heads of His enemies.
Satan also has a workshop where He uses tortured labourers to make toys for little boys and girls. "Little Jimmy asked for the latest digital tablet, something he can use in college to further his education. Isn't that sweet? But I decided to go one step further and help him out more." Reports say Jimmy received the third edition Thermodynamics and Process Design by F. R. Foulkes.
When approached for comment, Santa said that he appreciates the help. "It's so nice to see everyone getting festive around this time of year. It's really all about the children, and even if they misspell my name, they still deserve a merry Christmas."
Satan says He is still working on ways to improve His holiday gift giving. For instance, He wants to learn how to not burn down the houses He visits and how to not spread malicious intent when He soars across the sky on his hellhounds. "It's a tough job, and I only have to visit 666 houses, so I don't really know how the big guy does it. I've tried watching that Grinch fellow do this too, but I'm not so into having my heart grow three sizes bigger; that's just a cardiac arrest waiting to happen."
Reports say that Jimmy, one of the few children who received a gift from Satan, has decided to put his present to use and study his brand new textbook. "It's a really neat read, and it only demoralizes me sometimes. Satan was really thoughtful when He brought me this. He even left a note:
'Dear Jimmy,
Have a terrible Christmas. Use this gift wisely, it is one of my favourite reads, and much more valuable than a silly tablet. If you continue to be a naughty boy, I may see you again at U of T's Faculty of Applied Science and Engineering (I teach a few classes there).
Your friend and Eternal Bringer of Twilight,
S'"
Satan has since returned to ruling the underworld, bringing torment to the lives of people everywhere. He is looking forward to the next holiday season and has admitted that He does miss the milk and cookies. Chocolate chip are His favourite. GIVE HIM RAISIN COOKIES AT YOUR OWN RISK.
*The reporter who conducted this interview has since spontaneously combusted.*