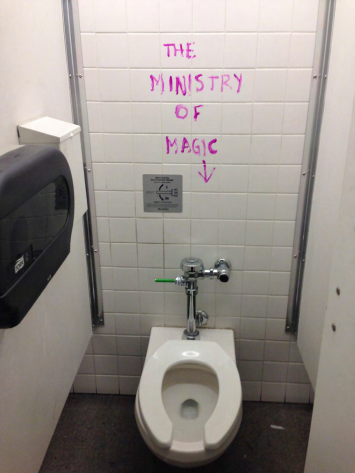 ---
Before we dive into the hits and pisses of the toiletry industry there is but one rule of thumb when it comes to choosing the best base for your butt and that is: never, ever use black lid toilettes. Can I say black? Anyway, just trust us on this.
In vague order, here is your 2015 Guide to UofT Toilets.
Sanford Fleming & Galbraith
Galbraith and Sandford Fleming are some of the most poorly designed buildings that UofT has to offer, but Galbraith's bathrooms in particular stand out. The double door approach, although effective in controlling odor, creates two possible disasters: incoming and outgoing washroomites are forced to navigate a tight squeeze with one another, or the pressure vacuum blows out the hinges. The Toike recommends upgrading to a full airlock system, complete with decontamination.
No one really knows what the SF bathrooms look like since they are only used as emergency relief valves between labs or drinks. Enter at your own risk.
Bahen
Don't do it, man. They smell, they leak, they only have the air dryers, and they swap men's and women's rooms from floor to floor. That's some messed up shit. If you have time to kill and are looking for a quality crouch, try the upper floors, but otherwise steer clear.
Haultain
We are giving them an average grade because, frankly, we try to avoid the building. It is 87% confirmed that the bathrooms and HA in general is haunted, so I didn't actually investigate this one.
Mechanical Building
These bathrooms always seem to be under construction, but if you can stand the sight of an old timey 5-foot urinal encased in an overflowing plastic bag then be my guest. These are some of the roomier lavatories, but some stalls feature the dreaded black seats.
McLennan Physical Laboratories
More like McLennan Physical Lavatories. This is where you want to go to give yourself the royal treatment. MP has a tower with 12 or perhaps more floors, and each one is required to have a bathroom. These are not well-known, regularly maintained, and, most importantly, scarcely visited. It's like having an entire building dedicated to relaxing bowel movements.
Back Campus
Listen, we all have our crises. Sometimes you are running between classes and there is no time to reach a "proper" washroom, so you need to improvise. Just avoid Sidney Smith is clean, but populated by filthy artsies, MedSci is fine but a little of out of the way, Graham Library has a nice basement bathroom but is a bit cramped, and Wallberg has the most futuristic bathroom of them all- find out for yourself!
What is on everyone's minds, though, is what the newly renovated Architecture Building will provide in terms of bodily relief areas. Look forward to a livetweeted  report on our findings!