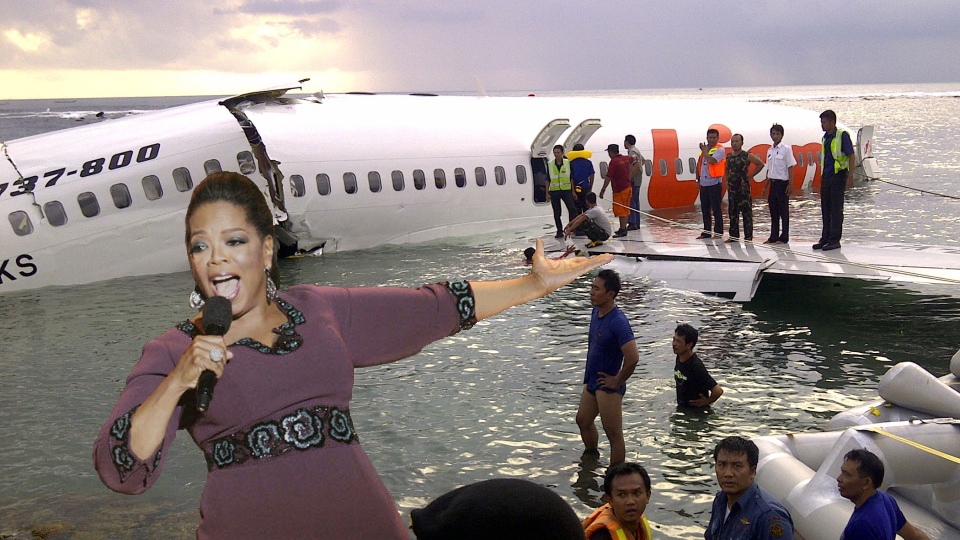 ---
ATLANTIC OCEAN – Forty-seven are in critical condition following the crash of Air Canada flight 1035 from Toronto to London into the Atlantic Ocean. The flight began on a happy note, with a surprise appearance from beloved T.V. host and celebrity icon Oprah Winfrey treating passengers to a special Oprah-fied safety presentation in which they were promised new cars, vacations to Tahiti, and autographed copies of her favourite book.
The joie-de-vivre felt by all those on the plane as a result of Oprah's magnetic personality and contagious enthusiasm for life began to falter two hours off the coast of Newfoundland, when the first of the plane's two engines began to experience mechanical problems. The engine failed completely a half hour later, and the second engine burst into flame soon after.
Passengers eagerly awaited the fall of oxygen masks which they had been assured would increase their chances of survival on such an occasion, and were devastated to find that when the overhead panels opened they revealed not life-preserving masks but round-trip first-class tickets to Tahiti.
Careful maneuvering by Pilot Amrit Singh allowed the plane to land with minimal damage in the ocean, however when staff searched for the inflatable life rafts that are required by law to be on every commercial airplane they instead found 200 autographed copies of Sue Monk Kidd's The Life of Bees, a touching coming-of-age story about a young black girl in in the American South in 1964.
Passengers were instructed instead of don their life vests, which are kept underneath the seats on Air Canada flights, but were only able to find keys to brand-new Honda Fits.
All on board were soon rescued by Ms. Winfrey's personal Coast Guard crew, and are now in recovery at a private medi-spa Ms. Winfrey owns in Bermuda.