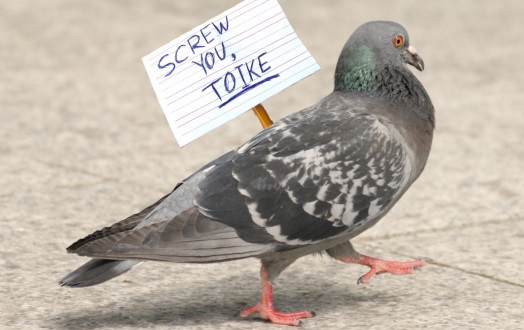 ---
What seemed like a harmless joke turned out to be a PR nightmare for the Toike Oike. A recent article from the publication took a crack at the dinosaur extinction and has provoked harsh criticism from the general public.
The article poked fun at dinosaur stereotypes, calling them by the derogatory term "large, prehistoric reptile", and culminated in a quip about their extinction, which is now generally regarded as having been in poor taste. Some critics say it was "too soon", while dinosaur rights groups in the GTA have said the Toike's quality of journalism has been "scaled down".
"The dinosaur extinction was a tragedy," said Mr. T. Rexman, an expert on dinosaur-human relations who claims ancestral connections to the dinosaur community. "It's time humans abandoned labels like 'fearsome' and 'cold-blooded' to describe dinosaurs and instead respected the great contributions to society that they made throughout prehistory."
At the University of Toronto, where the Toike Oike circulates, the activist group Dinosaurs are People Too (DPT), along with faculty members such as Prof. Peter O'Dactyl, refuse to acknowledge the Toike anymore and claim that the publication "has lost significant credibility as a news source."
Even local birds have taken up arms—or rather wings—against the Toike. "As the closest living relatives to dinosaurs, we are deeply offended," cooed Paige Aün, a member of a GTA flock planning to poop on the Sandford Fleming Building in protest. "This has hit us especially hard," she later chirruped, "because this year is the 65,000,000th anniversary of the dinosaur extinction."
A formal apology from the original writer of the article is in the works, although the DSA and other groups demand the entire Toike staff attend sensitivity training.